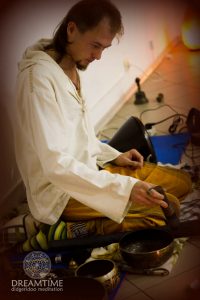 Our voice is the source of energy, joy of life and saturation, because it can influence body and our soul. The uniqueness of obertonic singing is that performer voices simultaneously two notes, thus creating idiosyncratic dual-voice solo.
During workshop we will learn and feel ourselves what is the POWER of voice production, how SOUNDING changes us from inside, PURIFIES, RENEWS, FREES BODY from blocks and stresses, HEALS, CHANGES mood and FILLS!
About master:
Dmytro Matyuhin is participant of bell project "Mirazvon", founder of projects "Wuu Vibe" and "Kedy Kastanedy", founder of festival of obertonic music "Obertonik", master of VI International Esoteric Forum, didgeridoo master, obertonic singing teacher.
Video from VI International Esoteric Forum:
Links:
Website: https://dimartist.wordpress.com/overtone-singing
VK: Дмитрий dimartist Матюхин
FB: Дмитрий Матюхин