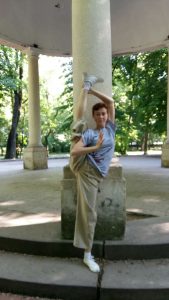 Taoist practices is a complex system of self-development, healing and rejuvenation of human. Thanks to them, a harmonic development of a human happens in physical, energetic and spiritual planes.
Session belongs to Taoist practices.
About master:
Olena Chukarina is the master of sports in gymnastics, master of Taichiquan and Taoist health-improvement practices. She's practicing and teaching Taichiquan for 20 years. Graduated from Lviv State University of Physical Culture summa cum laude. She learned Taichiquan from master Boris Vasilyev and Grandmaster Chen Yui in China. Learned Taoist health-improvement practices and healing acupunctural massage in Chinese community in Canada from different masters. She taught Taichiquan in Ukraine, Russia, Canada. Her students are from different countries of the world, China, Korea, Japan, Russia, Canada, USA, Israel. She was one of creators of healing and preventative system WaterTaichi, which will successfully applied in physiotherapeutic hospital in Vancouver. Currently along with continuous perfectioning of Taichiquan,  Olena paints energetically charged paintings, practices healing and health-improving massages and meditation, teaches Taichiquan, conducts workshops.
Links: