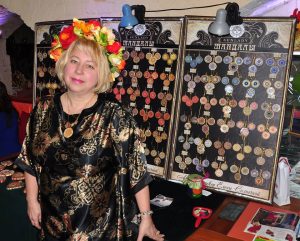 Diagnosis and correction of energy centers (chakras), individual selection of mandalas
Will reveal the secrets of diagnosing and correcting thin human bodies with the help of unique resonators of Living Mandala.
How to expand consciousness and activate the subconscious
How to restore energy
How to materialize desire
Ну и как без подарков!!! Для участников Форума мастер с "Живыми мандалами" будет создавать Синергию Счастья, а в подарок от нее будет необыкновенный приз волшебная "Янтра Денег". И самое интересное!!! Во время фестиваля, при подборе персональной Живой мандалы, Мастер Елена Солнечная будет проводить уникальный сеанс, чакровую диагностику, БЕСПЛАТНО!!!!
О мастере
Helen Solar is the author of the unique collection of "Living mandalas". One of the first specialists in Ukraine on mandala therapy with practical experience about 10 years. Architect-designer, artist, musician, professional art and color therapist, a member of USP, a member of the international optical societies SPIE, OSA (USA). Energy healer. Radiesthesist.
Studied Ayurvedic and temple energy practices in India.
Links
FB: Елена Солнечная